A brand-new book from the #1 bestselling author of The Break and The Woman Who Stole My Life.
They're a glamorous family, the Caseys. Johnny Casey, his two brothers Ed and Liam, their beautiful, talented wives and all their kids spend a lot of time together–birthday parties, anniversary celebrations, weekends away. And they're a happy family. Johnny's wife, Jessie–who has the most money–insists on it.
Under the surface, though, conditions are murkier. While some people clash, other people like each other far too much . . .
Still, everything manages to stay under control–that is, until Ed's wife, Cara, gets a concussion and can't keep her thoughts or opinions to herself. One careless remark at Johnny's birthday party, with the entire family present, and Cara starts spilling all their secrets.
As everything unravels, each of the adults finds themselves wondering if it's–finally–the time to grow up.
Grown Ups Book by Marian Keyes
Grown Ups is the brand new, sensationally entertaining and laugh out loud novel from Marian Keyes.
Click here to buy the book from amazon
Grown Ups Book Review
I have just finished this book and absolutely loved it from start to finish.
This is a grown-up book for grown-up fans of Marian Keyes. It is different from her other novels and yet so much the same.
This isn't a story with a central character, plot, and a happy ending. It's a behind the scenes look at the messy, imperfect lives of 3 brothers and their families. For the most part, this isn't a laugh out loud funny but there is definitely humor there, just more subtle than some of her earlier novels.
This story is about messy adult relationships, rocky marriages, and middle-aged angst. It's about those insecurities and secrets we hide because we feel we're too old not to have got ourselves completely together by now. There is an addiction story in there but it is just one story and I think Marian handled it really well.
I do not understand the comments about it being hard to follow all the characters. There are 3 families and each has a story. There are extended family members that pop in but these are easy to follow. I sometimes forgot whose kid was whose but ultimately that doesn't detract from the story.
I honestly didn't want this story to end and yet I couldn't put the book down. And so, it's over and I'm gutted because I'm in self-isolation and I just loved being a fly on the wall in other people's 'perfect on the outside, and not so perfect on the inside' lives.
Personally I think this is a must-read if you're a Keyes fan and can identify with being in your 40's and life not being as perfect as you hoped it would be.
Click here to buy the book from amazon
"I loved every word of Grown Ups. I will be missing those gorgeous vibrant characters for many weeks to come. There should be a word to describe the sadness and satisfaction you feel when you read the last page of a Marian Keyes novel: the ending is perfect but you still want more, more, more." —Liane Moriarty, bestselling author of Big Little Lies

"Messy, tangled, complex humans who reminded me that few of us ever really sort out our lives at all." —Jojo Moyes, bestselling author of Me Before You

"Sensitive, funny, wonderful, immensely touching." —Nigella Lawson

"I LOVED Grown Ups so much. It's SUCH a treat. I felt like I was rolling in PURE JOY throughout." —Caitlin Moran, bestselling author of How to Build a Girl

"She's only gone and done it again! I love Marian Keyes's books with a passion, and now she's got a fabulous new one on the way! Brilliant as ever." —Jane Fallon, bestselling author of Tell Me a Secret

"This beauty of a book just took the crown as my new favourite Marian Keyes novel (and that is a HIGH bar). It's tender, hilarious, important, with characters who feel as real as your own family by the time you're done. I put it down and felt bereft." —Beth O'Leary, bestselling author of The Flatshare
About the Marian Keyes
Marian Keyes (born 10 September 1963) is an Irish writer of fiction noted for its readability. As well as her novels, she produces non-fiction and is best known for her work in women's literature. Much of her writing deals with family life.
Abroad she became known for Watermelon, Lucy Sullivan Is Getting Married, Rachel's Holiday, Last Chance Saloon, Anybody Out There, and This Charming Man, with themes including alcoholism, depression, addiction, cancer, bereavement, and domestic violence. By March 2017 more than 35 million copies of her 12 novels preceding The Break (2017) had been sold and had been translated into 33 languages. Her writing has won both the Irish Popular Fiction Book and the Popular Non-Fiction Book of the Year, each on one occasion, at the Irish Book Awards.
She is self-confessed sexist, explaining that she will only accept books written by women to sit on her shelves, and never reads the work of men, whom she claims are "not worth reading"
Personal life
Keyes come from a large family, with many siblings. Born in Limerick and raised in Monkstown, Dublin, she graduated from University College Dublin with a law degree. After completing her studies, Keyes took an administrative job before moving to London in 1986.
During this period she became an alcoholic and was affected by clinical depression, culminating in a suicide attempt and subsequent rehabilitation in 1995 at the Rutland Centre in Dublin. In an article for The Daily Telegraph, Keyes details how her struggles with anxiety, depression, and alcoholism began at an early age.
Best Books by Marian Keyes
This was the first book by Marian Keyes that I ever read. I read it quite sometime after she had made a name for herself with Rachel's Holiday. The first time I read Watermelon, and there have been several readings over the years, I was enamored by Keyes' writing. Warm and witty, it was like sitting down and having a good gossip session with your best friend and a bottle of wine. . . 'And did you hear about Claire?….No? Well, James has only gone and left her, and with a brand new baby. . . And you'll never guess who he left her for…
I haven't always liked all of Keyes' books (Rachel's Holiday being one in particular), but Watermelon? I loved it.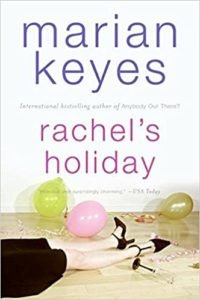 The fast lane is much too slow for Rachel Walsh. And Manhattan is the perfect place for a young Irish female to overdo everything. But Rachel's love of a good time is about to land her in the emergency room. It will also cost her a job and the boyfriend she adores.
When her loving family hustles her back home and checks her into Ireland's answer to the Betty Ford Clinic, Rachel is hopeful. Perhaps it will be lovely—spa treatments, celebrities, that kind of thing. Instead, she finds a lot of group therapy, which leads her, against her will, to some important self-knowledge. She will also find something that all women like herself fear: a man who might actually be good for her.
I loved this novel, even though it wasn't as funny as some of Keyes' previous work. I really got emotionally involved. As with Keyes' other work, Amy is part of a large, complex Irish family. After struggling to survive as a young single mother when her first husband abandoned her and her daughter, she finally, finally lets herself fall for Hugh.
For seventeen years, Hugh and Amy have a good, strong marriage. When Hugh's dad dies, and then a good friend dies not long after, he can't shake his depression and says he needs to take a break from their marriage and go traveling. He promises to return and that he'll always love her and their kids, but during their break, he may or may not sleep with other people. But this means that Amy is also on a break. Will she act on a crush?
Obviously devastated, Amy has to soldier on to take care of her teenage and twenty-two-year-old daughters. I loved Amy and all her kooky family members. I felt Amy's ups and downs acutely even though I don't have kids and my marriage didn't last anything close to seventeen years. This is an emotional roller coaster ride and I loved it.
After reading this book I decided that I will probably never loan it out because I will want to read it over and over again.
This is, by far, the most emotionally provocative book I've ever read. For about the first 25 chapters or so, I was convinced I knew what was going on, only to be hurled into an entire weekend of crying and page-turning. I couldn't stop crying, yet I couldn't put it down.
This book made me realize so many things about myself, life, death, and what it really and truly means to love someone so completely that you would be nothing without them.
Now, I plan to read all of Marian Keyes' other books. She is an amazingly gifted writer and I can't wait to learn more about the Walsh sisters and the many other characters she's created.
Sushi for Beginners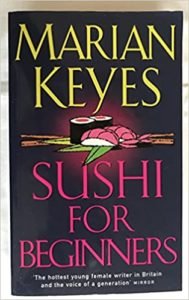 Now, I've quite liked Marian Keyes as a person when I've seen her on the telly, I quite enjoyed 'Rachel's Holiday' when I read it a good few years ago, and I don't mind the odd book in the chick-lit/lad-lit genre. This, alas, was a little disappointing and more of a two and a half than a three and a half. This is a clunky opening paragraph, isn't it?
The book follows the lives of three or four (or more) young women living in Dublin, centered around a women's magazine. There's lots of romance, bitching, glamour. There are some serious points made about the family/career balance, trust and relationships, and even stuff about clinical depression.
Despite all this, I just found it all a bit long and relentless with the repetition of little jokey comments that could be reduced to "..ooh, aren't men rubbish!.." followed by "..ooh, but aren't we daft girls for loving them despite this!.." for 550 pages.
It was quite entertaining and enjoyable, but I would've preferred to be more amused by something around half the length. Perhaps because most of the characters are in the end a bit unpleasant, the story could've done with losing a few of them.
Grown Ups – Casey family tree
Who published Grown Ups?
The Novel 'Grown Ups' is published by Penguin Books Ltd. Our nine creatively and editorially independent publishing houses seek out and enable talented people from all walks of life to tell their stories – and make sure they are heard. From bestselling writers and bold illustrators to big thinkers and political commentators, trailblazing entrepreneurs and wellbeing experts, we are home to some of the world's most celebrated authors.
Is 'Grown Ups' fiction or nonfiction?
Of course, it is a fiction novel.
How long is 'Grown Ups'?
'Grown Ups' novel which is written by Marian Keyes has 656 pages in the English language.
Hey, I'm loving Kuku FM app 😍
You should definitely try it. Use my code LPLDM59 and get 60% off on premium membership! Listen to unlimited audiobooks and stories.
Download now
©Copyright work - All works are protected in accordance with section 45 of the copyright act 1957(14 of 1957) and shouldnot be used in full or part without the creator's prior permission