When his mother became President of the United States, Alex Claremont-Diaz was promptly cast as the American equivalent of a young royal. Handsome, charismatic, genius—his image is pure millennial-marketing gold for the White House. There's only one problem: Alex has a beef with an actual prince, Henry, across the pond. And when the tabloids get hold of a photo involving an Alex/Henry altercation, U.S./British relations take a turn for the worse.
Heads of the family and state and other handlers devise a plan for damage control: Stage a truce between the two rivals. What at first begins as a fake, Instagrammable friendship grows deeper and more dangerous than either Alex or Henry could have imagined. Soon Alex finds himself hurtling into a secret romance with a surprisingly unstuffy Henry that could derail the presidential campaign and upend two nations. It raises the question: Can love save the world after all? Where do we find the courage, and the power, to be the people we are meant to ben? And how can we learn to let our true colors shine through? How will history remember you?
Click here to buy the book from amazon
Review of Red, White & Royal Blue by Casey McQuiston
Red, White & Royal Blue follows Alex, a fictionalized First Son who finds himself in a fight with Henry, the prince of England, and is forced to befriend him for PR reasons, developing romantic feelings for him along the way.
McQuiston first came up with the idea for what would become Red, White & Royal Blue while following the 2016 American presidential elections. While watching a season of the HBO comedy series Veep and reading both a Hillary Clinton biography by Carl Bernstein, A WOMAN IN CHARGE: The Life of Hillary Rodham Clinton, and The Royal We by Heather Cocks and Jessica Morgan, she found herself intrigued by the extravagant, high-profile lifestyle of the royals and wanted to write her own take on a story featuring a royal family.
McQuiston describes Red, White & Royal Blue as a queer romcom and says that she writes queer fiction "for the same reason straight people write straight fiction," meaning that she draws from her own experiences. For protagonist Alex's realization that he's bisexual, she was inspired by her own experience. The character of the fictional American president Ellen Claremont in the novel was inspired by American politician Wendy Davis, whose filibuster McQuiston watched in 2013 and found herself moved by.
In April 2019, Amazon Studios acquired the film rights to the novel at auction, with Ted Malawer attached as writer and Berlanti Studios as producer.
Red, White & Royal Blue was published by St. Martin's Griffin in May 2019 and debuted on the New York Times Paper Trade Fiction bestseller list, at #15. It was received favorably by critics, earning a starred review from Publishers Weekly, Kirkus, Booklist, Vogue and Vanity Fair
Red, White & Royal Blue won the Best Debut Novel and Best Romance Novel categories in the 11th Annual Goodreads Choice Awards, making it the only novel to win in two categories in 2019.
Click here to buy the book from amazon
"I took this with me wherever I went and stole every second I had to read! Absorbing, hilarious, tender, sexy―this book had everything I crave. I'm jealous of all the readers out there who still get to experience Red, White & Royal Blue for the first time!" – Christina Lauren, New York Times bestselling author of The Unhoneymooners

"Red, White & Royal Blue is outrageously fun. It is romantic, sexy, witty, and thrilling. I loved every second." – Taylor Jenkins Reid, New York Times bestselling author of Daisy Jones & The Six
About the Casey McQuiston
Casey McQuiston is an American author of romance novels, best known for her New York Times best-selling debut novel Red, White & Royal Blue, in which the son of America's first female president falls in love with the prince of Wales. She is a 2020 recipient of the Alex Awards.
Personal life
McQuiston grew up in southern Louisiana, U.S. She has a degree in journalism from Louisiana State University.[3] Prior to becoming an author, she worked in magazine publishing.
The Importance of Being Earnest by Oscar Wilde, The Seven Husbands of Evelyn Hugo by Taylor Jenkins Reid, and Harry Potter and the Prisoner of Azkaban by J.K. Rowling are her favorite books of all time.
McQuiston is openly bisexual and often also refers to herself as queer. She uses both 'she' and 'they' pronouns and describes herself as "very left-leaning politically." She lives in New York City, New York.
Best Books by Casey McQuiston
Red, White & Royal Blue
One Last Stop
From the New York Times bestselling author of Red, White & Royal Blue comes a new romantic comedy that puts a queer spin on Kate & Leopold.
What do you read after red white and royal blue?
The Unhoneymooners by Christina Lauren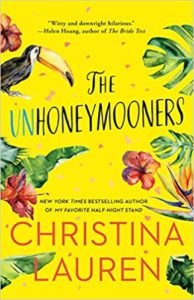 Olive is always unlucky: in her career, in love, in…well, everything. Her identical twin sister Ami, on the other hand, is probably the luckiest person in the world. Her meet-cute with her fiancé is something out of a romantic comedy (gag) and she's managed to finance her entire wedding by winning a series of Internet contests (double gag). Worst of all, she's forcing Olive to spend the day with her sworn enemy, Ethan, who just happens to be the best man.
Olive braces herself to get through 24 hours of wedding hell before she can return to her comfortable, unlucky life. But when the entire wedding party gets food poisoning from eating bad shellfish, the only people who aren't affected are Olive and Ethan. And now there's an all-expenses-paid honeymoon in Hawaii up for grabs.
Putting their mutual hatred aside for the sake of a free vacation, Olive and Ethan head for paradise, determined to avoid each other at all costs. But when Olive runs into her future boss, the little white lie she tells him is suddenly at risk to become a whole lot bigger. She and Ethan now have to pretend to be loving newlyweds, and her luck seems worse than ever. But the weird thing is that she doesn't mind playing pretend. In fact, she feels kind of… lucky.
Check our detailed review of The Unhoneymooners here
Get a Life, Chloe Brown by Talia Hibbert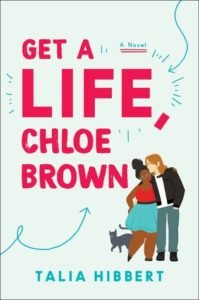 Chloe Brown is a chronically ill computer geek with a goal, a plan, and a list. After almost—but not quite—dying, she's come up with seven directives to help her "Get a Life", and she's already completed the first: finally moving out of her glamorous family's mansion. The next items?
Enjoy a drunken night out.
Ride a motorcycle.
Go camping.
Have meaningless but thoroughly enjoyable sex.
Travel the world with nothing but hand luggage.
And… do something bad.
But it's not easy being bad, even when you've written step-by-step guidelines on how to do it correctly. What Chloe needs is a teacher, and she knows just the man for the job.
Redford 'Red' Morgan is a handyman with tattoos, a motorcycle, and more sex appeal than ten-thousand Hollywood heartthrobs. He's also an artist who paints at night and hides his work in the light of day, which Chloe knows because she spies on him occasionally. Just the teeniest, tiniest bit.
But when she enlists Red in her mission to rebel, she learns things about him that no spy session could teach her. Like why he clearly resents Chloe's wealthy background. And why he never shows his art to anyone. And what really lies beneath his rough exterior…
American Royals by Katharine McGee
What if America had a royal family?
When America won the Revolutionary War, its people offered General George Washington a crown. Two and a half centuries later, the House of Washington still sits on the throne.
As Princess Beatrice gets closer to becoming America's first queen regnant, the duty she has embraced her entire life suddenly feels stifling.
Nobody cares about the spare except when she's breaking the rules, so Princess Samantha doesn't care much about anything, either . . . except the one boy who is distinctly off-limits to her.
And then there's Samantha's twin, Prince Jefferson. If he'd been born a generation earlier, he would have stood first in line for the throne, but the new laws of succession make him third. Most of America adores their devastatingly handsome prince . . . but two very different girls are vying to capture his heart.
The Bromance Book Club by Lyssa Kay Adams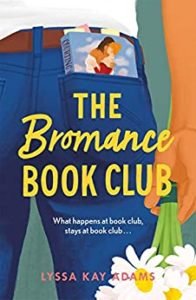 The first rule of book club: You don't talk about the book club.
Nashville Legends second baseman Gavin Scott's marriage is in major league trouble. He's recently discovered a humiliating secret: his wife Thea has always faked the Big O. When he loses his cool at the revelation, it's the final straw on their already strained relationship. Thea asks for a divorce, and Gavin realizes he's let his pride and fear get the better of him.
Welcome to the Bromance Book Club.
Distraught and desperate, Gavin finds help from an unlikely source: a secret romance book club made up of Nashville's top alpha men. With the help of their current read, a steamy Regency titled Courting the Countess, the guys coach Gavin on saving his marriage. But it'll take a lot more than flowery words and grand gestures for this hapless Romeo to find his inner-hero and win back the trust of his wife.
The Bride Test
Khai Diep has no feelings. Well, he feels irritation when people move his things or contentment when ledgers balance down to the penny, but not big, important emotions—like grief. And love. He thinks he's defective. His family knows better—that his autism means he just processes emotions differently. When he steadfastly avoids relationships, his mother takes matters into her own hands and returns to Vietnam to find him the perfect bride.
As a mixed-race girl living in the slums of Ho Chi Minh City, Esme Tran has always felt out of place. When the opportunity arises to come to America and meet a potential husband, she can't turn it down, thinking this could be the break her family needs. Seducing Khai, however, doesn't go as planned. Esme's lessons in love seem to be working…but only on herself. She's hopelessly smitten with a man who's convinced he can never return her affection.
With Esme's time in the United States dwindling, Khai is forced to understand he's been wrong all along. And there's more than one way to love.
Who published red white and royal blue?
The Novel 'Red white and royal blue' is published by Macmillan Publishers. It is a global trade publishing company operating in over 70 countries, with imprints in the United States, Germany, the United Kingdom, Australia, South Africa, and India. Macmillan is a division of the Holtzbrinck Publishing Group, a large family-owned media company headquartered in Stuttgart, Germany.
Will there be a sequel to red white and royal blue?
Bestselling author Casey Mcquiston also opened up about the Red, White, and Royal Blue film. Today there is no plan for a sequel based on red white and royal blue. Casey Mcquiston might have a sequel on the way… one day!
Is 'Red white and royal blue' fiction or nonfiction?
Of course, it is a fiction novel. McQuiston describes Red, White & Royal Blue as a queer romcom and says that she writes queer fiction "for the same reason straight people write straight fiction," meaning that she draws from her own experiences.
Who is Nora in red white and royal blue?
Nora Holleran is the 22 year old granddaughter of Vice President Mike Holleran, and part of the White House Trio with Alex Claremont-Diaz and June Claremont-Diaz. She previously dated Alex during the campaign trail when Alex was 17 and Nora was 19.
How long is 'Red, White & Royal Blue'?
'Red, White & Royal Blue' novel which is written by Casey Mcquiston has 432 pages in the English language.
Hey, I'm loving Kuku FM app 😍
You should definitely try it. Use my code LPLDM59 and get 60% off on premium membership! Listen to unlimited audiobooks and stories.
Download now
©Copyright work - All works are protected in accordance with section 45 of the copyright act 1957(14 of 1957) and shouldnot be used in full or part without the creator's prior permission