When Barbara realizes time is running out, she writes letters to her four daughters, aware that they'll be facing the trials and triumphs of life without her at their side. But how can she leave them when they still have so much grown up to do?
Take Lisa, in her mid-thirties but incapable of making a commitment; or Jennifer, trapped in a stale marriage and buttoned up so tight she could burst. Twentysomething Amanda, the traveler, has always distanced herself from the rest of the family; and then there's Hannah, a teenage girl on the verge of womanhood about to be parted from the mother she adores.
But by drawing on the wisdom in Barbara's letters, the girls might just find a way to cope with their loss. And in coming to terms with their bereavement, can they also set themselves free to enjoy their lives with all the passion and love each deserves?
This heartfelt novel by bestselling author Elizabeth Noble celebrates family, friends . . . and the glorious, endless possibilities of life.
Click here to buy the book from amazon
Review of Things I Want My Daughters to Know by Elizabeth Noble
Barbara has been diagnosed with cancer and realizes she isn't going to be around for her family much longer. So she decides to write her four daughters a series of letters, each personal and individual for them so that they have a little bit of their mother left after she has gone.
Her daughters are devastated at their loss, but will they manage to draw any comfort from their mother's letters?? Will they be able to come together as a family to miss their mother properly, and will the letters set them free from the lives they are living in?
When you read that synopsis, it doesn't sound like the most cheerful book in the world. It certainly is emotional and upsetting at points, because of course, the topic is the death of a mother and the grief suffered by the ones left behind, but at the same time, there is an uplifting side to the book which comes through the sad side of the book and makes you smile and feel good. That for me is what worked about this book – it had a good balance of sadness and sorrow, and happiness and a family really coming together much closer than they ever have before, albeit in terrible circumstances.
We don't get to meet Barbara in person, for obvious reasons. The only way we hear from her is the letters and diaries she has left for her daughters which are written in the first person. She comes across as a lovely mum, but there are a few bits which are quite shocking, and certainly not something you'd expect a dying woman to admit in a letter. Her character was instantly likable and I warmed to her, and really enjoyed reading the letters from her. Her daughters on the other hand, well my opinion of them changed throughout the book, to be honest!
The eldest daughter Lisa is a commitment-phobe to the highest degree. It was her who really grated on me throughout the book, because although she clearly missed her mother, she seemed to push away everyone who wanted to love her, and I just can't understand that myself. She was well-written but not particularly likable by anyone. Jennifer, the second daughter is trapped in her marriage to Stephen, neither one admitting their true feelings to each other. She was a more complex character, with different layers to her. I particularly enjoyed a scene where she was drinking with her step-father and the author really allowed the character to let herself go. It made great reading and showed the talent of the author.
Amanda is the traveler of the group, jetting off around the world for months at a time leaving her family behind. She doesn't feel settled at home, and shocking things are revealed to Amanda which makes her question everything she thought was true about herself. Finally, there is teenage Hannah, who is devastated to lose her mother just when she needs her most. Her father Mark is concerned about bringing up his daughter and 3 step-daughters without Barbara but will his family make it easy for him?
This really is a wonderful book full of love and hope and shows how important families are when you need them the most. The book explores so many levels of relationships between people; mother and daughter, father and daughter, step-parenting, first loves, old loves, and finding new love – it's all in this emotional roller-coaster of a book. The third-person narrative from the author makes it easy for the reader to follow each girls story, as the book is divided not into chapters, but into a section about a person of the story (Lisa, Jen, Amanda, Hannah, and Mark) and this allows the book to flow freely with ease of reading that makes it a joy. The switch to first-person for Barbara's letter feels wholely appropriate and fits in well with the story and allows a break from the present and the girls to really come into the mind of Barbara during her dying days. It's a really emotional book that will touch your heart and leave you praying that the awful tragedy in this book never affects you. Brilliantly written and a joy to read – I recommend it highly.
Click here to buy the book from amazon
About the Elizabeth Noble
Elizabeth Noble (born 22 December 1968) is the author of seven novels: The Reading Group, The Friendship Test (previously published as The Tenko Club), Alphabet Weekends, Things I Want My Daughters to Know, The Girl Next Door, The Way We Were and Between a Mother and Her Child, all of which have reached the Sunday Times' Top 10 best sellers. Her novel The Reading Group reached number one. Her new novel, Letters to Iris, publishes on April 5, 2018.
Writing career
Elizabeth's first novel, The Reading Group, was published in 2004 and went straight to number 1 in The Sunday Times' bestsellers chart. Her subsequent novels The Friendship Test (previously published as The Tenko Club), Alphabet Weekends, Things I Want My Daughters to Know, The Girl Next Door, The Way We Were, and Between a Mother and Her Child have all made The Sunday Times Top 10 best sellers list. Elizabeth took a 6 year break from writing, to focus on her children, and to spend a few years living with her family in New York City, and her latest novel, Letters to Iris, is out on April 5, 2018. Her novels are published worldwide, and widely translated. She also writes short stories and has written articles for a number of newspapers and magazines.
Best Books by Elizabeth Noble
The Reading Group
The Reading Group follows the trials and tribulations of a group of women who meet regularly to read and discuss books. Over the course of a year, each of these women's lives becomes intertwined, both through the books they read and the real-life stories they tell.
Inspired by a shared desire for conversation, a good book and a glass of wine, Clare, Harriet, Nicole, Polly and Susan undergo startling revelations and transformations despite their difference in background, age and respective dilemmas.
In The Reading Group, Noble reveals the many complicated paths in life we all face as well as the power and importance of friendship.
Click here to buy the book from amazon
Alphabet Weekends
Natalie and Tom have been best friends forever, but Tom wants them to be much more. When Natalie's longtime boyfriend walks out on her just when she thinks he's going to propose, Tom offers her a different and wildly romantic proposition. He suggests that they spend twenty-six weekends together, indulging in twenty-six different activities from A to Z, and at the end of that time Tom's convinced they'll be madly in love. Natalie, however, is not so sure.
As Natalie's touring the alphabet with Tom, her mother's going through her own romantic crisis—while Tom's unhappily married sister-in-law, Lucy, struggles with temptation. And over the course of six amazing months, three generations of passionate dreamers are going to discover that, no matter how clever they are, love—and life—is never as easy as A, B, C …
Click here to buy the book from amazon
The Friendship Test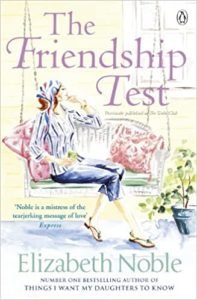 One late wine- and gossip-fueled night, four friends on a lark create a fateful test of friendship — one that challenges the very principles and boundaries of their alliance. To pass it means to never, at any cost, betray one another. Twenty years later, they must face that ultimate test.
We meet them at the dawn of their camaraderie in the 1980s and already each woman is distinguished from the other: Tamsin, the compassionate mother hen; Reagan, the brazen and clever overachiever; Sarah, the seemingly perfect beauty; and Freddie, who despite being far from her U.S. home, finds strength in her friends. We forward to today, and as promised they are still firm friends . . . that is until a crisis occurs and the principles that define their friendship test are challenged. Exquisitely rendered by Elizabeth Noble, The Friendship Test is a powerful testament to the depth and capacity of female relationships.
Click here to buy the book from amazon
The Girl Next Door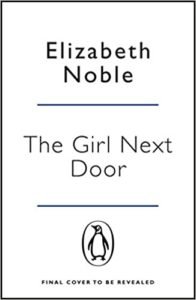 For Eve, home is far away in England since she and her husband relocated to an apartment building on New York's Upper East Side. Violet has lived in the building for decades, but she's always kept herself apart until Eve's loneliness touches her heart. Jason in apartment 6A is no longer sure he loves his wife, but he's head over heels for Rachel in 6B. What they all have in common is an address, but it is also a home where their lives and secrets intertwine.
Click here to buy the book from amazon
When You Were Mine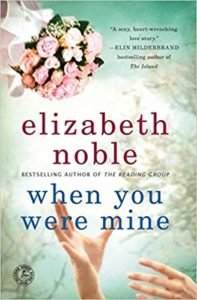 IS A SECOND CHANCE AT HAPPINESS WORTH RISKING EVERYTHING? EVEN A BEST FRIEND?
Susannah has been living with Doug for eight years, acting as stepmother to his three unappreciative children and wondering why she doesn't mind much when he sometimes sleeps in his study. She's known her best friend Amelia since they were teenagers. Amelia never minces words, and Susannah doesn't like hearing what Amelia has to say about her noncommittal relationship.
At her brother's wedding, Susannah runs into Rob—her first love, the love of her life. There's no band on his ring finger, and Susannah begins to fantasize. Her fantasies turn to reality when Rob gives her a call. Susannah's world is rocked by her rekindled feelings for Rob, then totally turned upside down by a revelation from Amelia. Just when Susannah and Amelia need each other the most, they are facing a crisis that threatens to tear their friendship apart. Without her familiar guiding star, Susannah must finally make some hard choices in order to grow up for good, no matter who or what she has to leave behind.
Heartwarming, wise, and sophisticated, When You Were Mine is a story about first loves, best friends, and choices that will resonate with readers everywhere.
Click here to buy the book from amazon
Is 'Things I Want My Daughters to Know' fiction or nonfiction?
Things I Want My Daughters is a fiction novel written by Elizabeth Noble.
How long is 'Things I Want My Daughters to Know'?
The Things I Want My Daughters to Know novel which is written by Elizabeth Noble has 448 pages in the English language. It is published by Penguin (14 May 2020).
What does Elizabeth Noble write about?
Elizabeth Noble is the author of the internationally bestselling novels The Reading Group, The Friendship Test, Alphabet Weekends, and Things I Want My Daughters to Know. She lives with her husband and their two daughters in New York City. Her genres mainly include General Fiction.
Quotes by Elizabeth Noble
"Before we belonged to anyone else, we were each other's."
― Elizabeth Noble, The Way We Were

"could i have loved you better? maybe. if that's true, then i'm sorry. could i have loved you more? i don't think it's possible. "
― Elizabeth Noble, Things I Want My Daughters to Know

"you're my first born child, and the person who first showed me the miracle of this love a mother has for her child. "
― Elizabeth Noble, Things I Want My Daughters to Know
Hey, I'm loving Kuku FM app 😍
You should definitely try it. Use my code LPLDM59 and get 60% off on premium membership! Listen to unlimited audiobooks and stories.
Download now
©Copyright work - All works are protected in accordance with section 45 of the copyright act 1957(14 of 1957) and shouldnot be used in full or part without the creator's prior permission